Alexander Nohai-Seaman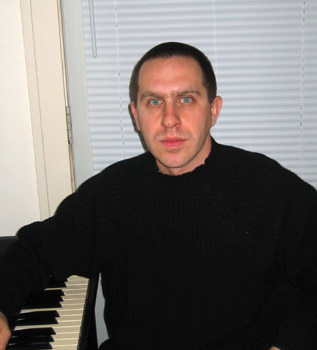 Alexander Nohai-Seaman
205 North Few Street
Madison, WI 53703
608-441-9814
<nohaiseaman@yahoo.com>
Alexander Nohai-Seaman (b. 1977) grew up just outside of New York City. He was not very interested in music he heard on the radio, but began playing clarinet in 4th grade and later switched to saxophone. After receiving an electric guitar for his 11th birthday, he quickly began writing and recording songs and played in numerous original bands in the New York City area for which he recorded and produced a number of demo tapes. He has studied sound recording and engineering at the University of New Haven, received a BA in music from Lycoming College, with a concentration in composition and classical guitar performance, and received his MM in composition from Binghamton University. Alexander is currently a DMA candidate at the University of Wisconsin-Madison, where he studies composition with Stephen Dembski and Laura Schwendinger. His previous teachers include Joel Naumann, David Brackett, and Fred Thayer. Alexander also teaches freshman aural skills and serves as an advisor for the Contemporary Chamber Ensemble at UW-Madison.
Alexander has won the 2006 Wisconsin Choral Director's Association Composition Competition, and his Rilke Songs were awarded 2nd place in the Nineteenth Annual Young Composer's Competition at Austin Peay State University. His composition Miniatures for Violin and Piano is a finalist in the 2005-2006 UW-Madison Student Composition Award. In 2004 he was one of five composers commissioned to compose a work celebrating the 50th anniversary of UW-Madison's Memorial Library. Other awards include a Foundation Award from Binghamton University and the Ruth and William Askey Music Prize. In 2001 he presented at paper on Coleman Hawkins' Body and Soul at the International Association of Jazz Educators annual conference.
His works have recently been performed by the University of Chicago New Music Ensemble, the UW-Madison Contemporary Chamber Ensemble, by soprano Mimmi Fulmer, the Harpur Chorale, the Lycoming College Choir, UW-Madison Women's Chorus, the UW-River Falls Choir, at the 2004 Connecticut Women's Chorus Festival, the 2005 La-Crosse New Music Festival, the 2006 region VI Society of Composers Conference, and at the 2004 and 2005 Midwest Graduate Music Consortium Conferences.
Each summer Alex teaches courses at the UW Summer Music Clinic, including: Music Theory, American Music, Electronic Music, 20th Century Music History, and Popular Music. He has taught composition and guitar lessons through the UW-Madison Student Teaching Division, the Madison Conservatory of Music, Music City, and the Binghamton Community Music Center.
His current projects include Requiem on a text of Rainer Maria Rilke for mezzo-soprano and chamber orchestra, Hellfire for symphony orchestra, and In Memoriam-Dimebag Darrell for solo guitar.
Selected Works
Title
Date composed
Duration
Orchestra
Requiem for Mezzo-Soprano Chamber Orchestra
2005
in progress
Hellfire for Symphony Orchestra
2004-2006
in progress
Fantasy for Chamber Orchestra
2001
5'
Longing for Winter for String Orchestra
1999
9'
Chamber without voice
A Gesture Signals for Flute and Piano
2004
7'
Winter Song for Guitar and Violoncello
2003
6'
Two Movements for Wind Quintet
2003
6'
Master Misery for Chamber Ensemble
2002
15'
Miniatures for Violin and Piano
2002
6'
String Quartet 2001-2002 13'.
Trio for Violin, Violoncello, and Piano 2000-2001 14'
Chamber with voice
Rilke Songs for Soprano, Flute, Violin, Violoncello, Guitar, and Piano
2004
11'
Emeritus for Soprano, Flute, and Violoncello
2004
9'
Going for Soprano, Flute, English Horn, Clarinet, Bassoon, Horn, Trumpet, Percussion, Piano, 2 Violin, Viola, Violoncello, Contrabass
2003
9'
Solo
In Memoriam "Dimebag" Darrell for Guitar
2005-2006
in progress
Awake, Under a Glass Moon for Flute
2004
8'
Baby Claude for Piano
1998
3'
Vocal
4 Songs for Soprano and Piano
2004
5'
In This Hour for Soprano and Piano
2004
4'
Like Them for Tenor and Piano
2002
6'
Night Road for Soprano and Piano
2001
12'
Day for Baritone and Piano
1998
2'
Choral
Sabrina fair... SATB
2005
3'
Flow not so fast, ye fountains SSA
2004
3'
From an April SSA
2004
3'
Lux aeterna SATB
2003
4'
Song for Fine Weather SATB
2002
4'
Dismantlings SSA
2001
3'
Evening Star SSAA
1999
4'
Psalm 67 SATB
1998
3'
The moon is hiding SATB
1998
3'
Precious Lord, Take My Hand (arr.) SATB
1998
1'
Heu, nos miseros SATB
1997
5'
---
[WAC Main Page] [Member Directory]

Copyright © 1998-2006 Wisconsin Alliance for Composers. All rights reserved.
Last updated 15 January 2006. Contact information.