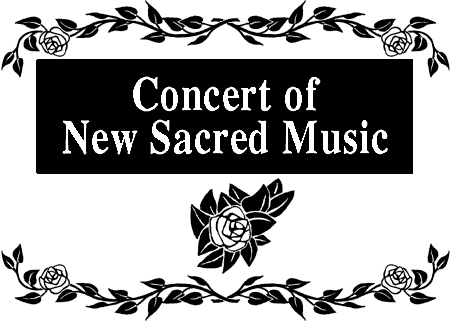 Concert of New Sacred Music
Featuring Solo Vocal, Instrumental and Sacred Choral Music composed and directed by Brian Nelson.

2:30 p.m. Sunday, April 26, 1998, First Congregational United Church of Christ, Madison, Wisconsin.
Program
Vocalise (1997)
Brian Nelson
Paul Gmeinder, Cello
Fugue in F-sharp Minor (1989)
Brian Nelson
Carroll Chilton, Piano
Two Ocean Songs (1989)
Brian Nelson
Susan Savage-Day, Soprano
John Eyre, Piano
Poetry Reading
Eric Nelson
The Reconciliation (1993-1994)
Three Psalms for Solo Tenor

Psalm 42
Psalm 51
Psalm 63

Brian Nelson
Jeffrey Cox, Tenor
Intermission
Tabernaculae Dei (1994-1995)

Quam Dilecta
Ave Verum Corpus
Tantum Ergo

Brian Nelson
Members of the Madison Chamber Choir
Brian Nelson, director
Poetry Reading
Cliff Bajema
Alas, and Did My Savior Bleed (1996)
Jeffrey Cox
Members of the Madison Chamber Choir, UW Choirs and Guests
Brian Nelson, Director
Motets

Truly, Truly I Say to You (1992-3)

Brian Nelson
Ann Edahl, Soprano Soloist
Chris Ryan, Tenor Soloist

Therefore Are They Before the Throne of God (1993)

Jeffrey Cox, Tenor
Patti Atwood, Soprano
Mary Jezl, Alto
Members of the Madison Chamber Choir, UW Choirs and Guests
Brian Nelson, Director
---
Full Chorus

Sopranos

Patti Atwood, Ann Edahl, Jane Ferris, Susan Harris, Deb Heilert, Laura Kuiper, Allison Martin, Kathy Mohs

Altos

Peggy Cooper, Milana Chernick Cox, Carol Graves, Mary Jezl, Ena Klobes, Missy McNeal, Sarah Rasmussen

Tenors

Brian Aukema, Joe Cardamone, Steve Ebel, Marty Kienitz, Chris Ryan

Basses

Steve Baas, Ben Jaeger, Mike Peterson, Dennis Reece, Bernie Schlafke, Scott Seefelt, Dean Skuldt
Women's Chorus

Soprano I

Judy Brauer, Kara Rhode, Karen Upper

Soprano II

Jordana Lenon, Nancy Van Brunt, Amelia Kubala

Alto I

Carol Graves, Ena Klobes, Jody Siker

Alto II

Laurie Goss, Lisa Guedea, Mary Schmidt
---
Program Notes
Vocalise for Solo Cello
I have always been in love with the poignant beauty of this great instrument. From the great Bach Cello Suites to the Sonata and Concertos of Dimitri Shostakovitch, the Cello has always captured my musical imagination. The title of this piece refers to the innate expressive quality of the instrument as well as to the lyrical, flowing nature of the music itself. Vocalise actually began as a sketch for an orchestration class in l996 and was completed in November of 1997. Today's performance is the third in a series of three premieres by cellist Paul Gmeinder. The piece is dedicated to my father Don Nelson.
Fugue in F-sharp Minor
Strange as it may seem, this piece proved to be a real turning point for me. As a young composer at the University of Michigan I found myself adrift in an aesthetic milieu that seemed to emphasize novelty and individuality more than the objective musical values I craved. Having no way to judge where I stood in relationship to the great tradition, I set myself the impossibly high goal of writing a fugue that was as good as Bach. My thought was that if could come even close to the level of this great master, perhaps there was still hope for me as a composer. Whether I was at all successful I shall leave to you the listener, but I present this piece to you as a humble student's exercise.
Two Ocean Songs
These two songs represent perhaps my best work from my college days at the University of Michigan. Both texts deal with ocean themes but in very different ways. On the Shore (text by Brian Nelson) is written in the first person and deals with profound existential loneliness. A Light Breather (text by Theodore Roethke) is more objective, even whimsical as it portrays a small sea creature playing in the depths of the sea.
The Reconciliation
The three pieces that make up The Reconciliation were composed separately for use in worship at my church. As time went on, however, I began to see a spiritual progression in the pieces that led me to group them together in this collection for high voice solo. To begin, Psalm 42 conveys a deep longing for God, likened to a deer's thirst for flowing streams. Psalm 51 speaks of repentance from sin and a turning to the Lord for forgiveness. Finally, Psalm 63 serves as a kind of consummation of all that has come before. In it David speaks of his longing for, experience of and fulfillment in the Lord himself.
Tabernaculae Dei
Commissioned by Edgewood College's Department of Music in 1994, Tabernaculae Dei features Quam Dilecta, Ave Verum Corpus, and Tantum Ergo, chosen from traditional liturgical texts. The connective thread in these three texts is, if you will, the dwelling places of God. Quam Dilecta speaks of God's dwelling in heaven and of our longing to be with Him in that place. Ave Verum Corpus speaks of His incarnation in Jesus Christ. Finally, Tantum Ergo speaks of the mystery of His presence in the Sacrament of Holy Communion. The overall progression of this work is from distance to nearness, from inaccessibility to intimacy, from an almost bitter longing for God to sweet communion with Him in Jesus Christ.
Truly, Truly I Say To You, and Therefore are They Before the Throne of God
The text for Truly, Truly, is taken from the Gospel of John chapter 12:24-25a. "Unless a grain of wheat falls into the earth and dies, it remains alone, but if it dies it bears much fruit." The text continues with the great paradox of the Christian faith as exemplified by Christ's death and resurrection: "He who loves his life shall lose it; he who hates his life in this world shall keep it for eternal life." The piece features several solos which call to mind the peripatetic style of Christ's teaching.

Therefore are They before the Throne of God is based on Revelation 7:14-17. The scene is as follows: the Apostle John has been taken up in a vision to Heaven and is shown various scenes and future events by one who is called an Elder. Appropriately the piece, begins with a wordless, musical portrait of the heavenly places. Interspersed with this are two tenor solos which project the words of the Elder from Revelation 7:14 and direct the listeners attention toward one of the scenes, a "crowd of people in white robes," standing before God's throne. These are the saints of God, "who have come through the great tribulation" and are represented by the full choir. After a broad statement by the latter, the music turns to a dramatic presentation of God's promises to His people which concludes with a triumphant setting of "and God will wipe every tear from their eyes." Following this comes a return to the wordless music from the beginning, as well as a spacious reflection on previous themes. Finally, and sung as if by an onlooking heavenly host, the motet concludes with and extended "Amen."
---
Biographic Material
Brian Nelson was born in Madison, Wisconsin in 1967 and grew up in Beaver Dam and Sun Prairie. He began composing at age thirteen and received his Bachelor of Music in Composition from the University of Michigan in 1990. He is currently completing a Master's Degree in Composition at the University of Wisconsin, Madison.

Since moving to Madison in 1990, Brian has been active as a composer, singer and conductor of his own and other music. In March of 1992 he presented a full-length concert of his works. Following his conversion to the Christian faith that same year, Brian has been a prolific composer of sacred music including many solo and choral settings of biblical and other Christian texts. In 1993 his Three Motets were premiered by the Madison Chamber Choir, Joseph Brachmann, Director. Since then he has received a number of commissions including Tabernaculae Dei written for the Music Department of Edgewood College, How Lonely Sits the City for high voice solo and an upcoming solo work for pianist Carroll Chilton to be premiered in Spring of 1999. This past January, Brian completed his Symphony Number One in One Movement which is scheduled to be read in May by the University Symphony Orchestra, David Becker, Director. Brian is a member of Geneva Campus Church.

Jeffrey C. Cox (b. 1961) is an active church musician. Born in Oak Park, Illinois, he moved several times as his father, a pastor, took churches around the Midwest and Pennsylvania. As a high-schooler living in Pittsburgh he studied composition at Carnegie-Mellon University. His undergraduate work was at Houghton College, Houghton, NY, where he earned Bachelor's degrees in piano performance and theory/composition. From 1984 to l993 he taught piano, organ, theory, and composition at Bethany Bible College, Sussex, New Brunswick, Canada. While there his compositions were performed by the College Chorale and local church choirs. In 1988-89 he completed his Master of Music, in organ performance, at UW-Madison, studying with John Chappel Stowe. Currently he is Music Director of St. Stephen's Lutheran Church in Monona, and working on a doctorate in organ performance at the UW-Madison. His choirs at the church have premiered several of his choral works, including a Magnificat, The Seven Last Words of Christ, and a chorale cantata Ah, Holy Jesus.

Professor Carroll Chilton has been a member of the piano faculty of the School of Music at the University of Wisconsin-Madison since 1963. He previously taught at Iowa State University and at the University of Richmond, Virginia. A native of Denver, Colorado, he studied at the University of Colorado as well as at Colorado College. He did graduate work at Indiana University and also studied in New York and later in Germany for two years as a Fulbright scholar. His teachers include Joseph Bloch, Storm Bull, William Carter, Eduard Steurmann (New York), Bela Nagy (Indiana), and Johanna Harris (Colorado College). In Germany he studied with Conrad Hansen, who was an assistant to Edwin Fischer in prewar Berlin. While in Germany Mr. Chilton performed concerts in Frankfurt, Berlin, Kassel and other cities under the auspices of Amerika Haus cultural centers. Mr. Chilton has had a distinguished career as a pianist, accompanist and teacher.

Paul Gmeinder is an active freelancer in Southern Wisconsin. He is a member of Present Music, one of the country's leading contemporary music ensembles.

John Eyer is currently pursuing a Doctor of Arts Degree in piano performance at the UW-Madison School of Music, studying with Howard Karp. Mr. Eyer has received degrees in piano from Luther College in Decorah, Iowa and the Peabody Conservatory in Baltimore, Maryland.

Susan Savage-Day earned her Master's in Music at the University of Wisconsin-Madison, where she is currently enrolled in their Doctorate of Music Program. Ms. Day has performed throughout Wisconsin and the Southeast region of the United States. She has won awards in NATS, NATSAA and the Metropolitan Opera competition. Her varied repertoire ranges from the Baroque oratorio to the twentieth century art-song. Her operatic experience includes a season with the National Opera Company in Raleigh, NC, where she performed the role of Susanna in The Marriage of Figaro. Other operatic roles include Lauretta in Gianni Schicchi with the Madison Opera, Hanna in The Merry Widow with the Rockford Mendelssohn Club, Gretel, Adina, and Mabel with Opera for the Young and Le Feu, as well as La Princesse and Le Rossignol in L'entant et tea Sortileaes with the University of Wisconsin-Madison Opera. She studied with Mimmi Fulmer.

Eric Nelson is a science writer with the Energy Center in Madison Wisconsin. He is an active poet and short story writer in the Madison area.

Cliff Bajema is the Pastor of Geneva Campus Church in Madison Wisconsin. He is an active writer and poet, having published several books on the Christian life and Sinews of Fleece, a collection of his religious poetry.

The banners for today's concert were created by watercolor artist Peggy Cooper. They reveal a veiling technique where one layer of color overlaps another creating a sense of movement and form. For the past six years, Peggy has created banners to complement concerts presented by the Madison Chamber Choir. The banners are an extension of other work. Peggy is a Waldorf class teacher which allows her to devote much of her time to artistic work. As a visual artist, she has been honored by the Pasadena Fine Arts Club, the South East Colorado Art Association the Colorado Council on the Arts and Humanities, and the Hagle's Nest Art Guild of Northern Illinois. In 1988 she received recognition by the Art Alliance of Pasadena. Her work has recently been shown in Venice, Santa Monica, and Pasadena, California, and also in Windsor and Kingston, Ontario, Canada. She is currently devoting most of her time to nurturing artistic development within children as head teacher of Children's Garden of Madison where she teaches a combined first and second grade class.
Acknowledgements
Brian Nelson and the Wisconsin Alliance for Composers would like to thank all of those who have made this concert possible:
Contributors

Barbara Nettles Carlson & Curt McLaughlin, Bob & Vicky Eby, Bonnie Laviron, Cal & Ruth DeWitt, David & Kristine Ellestad, Donald Nelson, Jeff and Gerda Teo, InterVarsity Christian Fellowship, Kim Haley, Margaret Wynne, Musica Dei, Inc., Edward & Irmgard Bittar, Nancy Winton, Peter & Marcia Bosscher, Stan & Phyllis Strosahl, Star Fax Copy Service, Terry & Shirley Morrison, Vern Visick, Vernon Sell--Inter-Culture International, Ltd.

Graphic Design

Bill Redinger

Ticket Outlets

Borders Book Shop East & West, Madison Music, Prairie Flowers and Gifts

Advertisers

Edgewood College, Prairie Flowers and Gifts, Star Fax Copy Service

Ushers

Terry and Shirley Morrison

Stagehand

Jim Ford

Ticket Sales

Matthew and Heidi Bekkering

Publicity

Susan Ely

Wisconsin Alliance For Composers

David Drexler, Christopher Frye

Facilities

First Congregational Church

Reception

Gerda Teo, Dorothy Boorse, Gaik Kuipers
---
[WAC Main Page] [Archives]

Copyright © 1998 Wisconsin Alliance for Composers. All rights reserved.
Last updated 4 June 1998. Contact information.