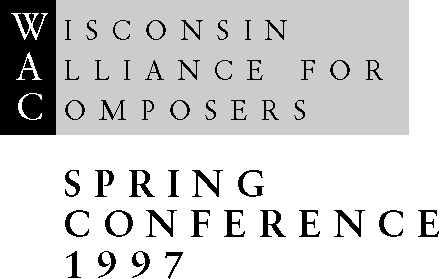 1997 Conference
April 25-26, 1997, Grace Episcopal Church and First Unitarian Meeting House, Madison.
Hosted by the MadWAC Board of Directors: Mercedes Binder, David Drexler, Dan Hosken, Ryan Conners.
MadWAC would like to thank the following individuals and businesses for their support of this conference:

Sharon Johnson, Joel Naumann, Royce Dembo, Vicky Tzoumerka-Knoedler, David Drexler, Ward-Brodt Music Mall, Blue Cross/Blue Shield of Wisconsin, Orange Tree Imports, Woodman's Food Markets and Bakery, B-Side CDs & Tapes, Grace Episcopal Church, The First Unitarian Society, Steve Wessing, Lakeside Press, Mary Bean, Peg Cornils, Casper Sunn, Kevin Ernste, Tom Patterson, John Welstead, Josh Schmidt, Yehuda Yannay

Recording:

Steve Wessing/Studio Earth Remote
---
1997 Conference
[Concert 1] [Panel Discussion] [Concert 2] [Concert 3] [Concert 4]

Copyright © 1998 Wisconsin Alliance for Composers. All rights reserved.
Last updated 5 June 1998. Contact information.